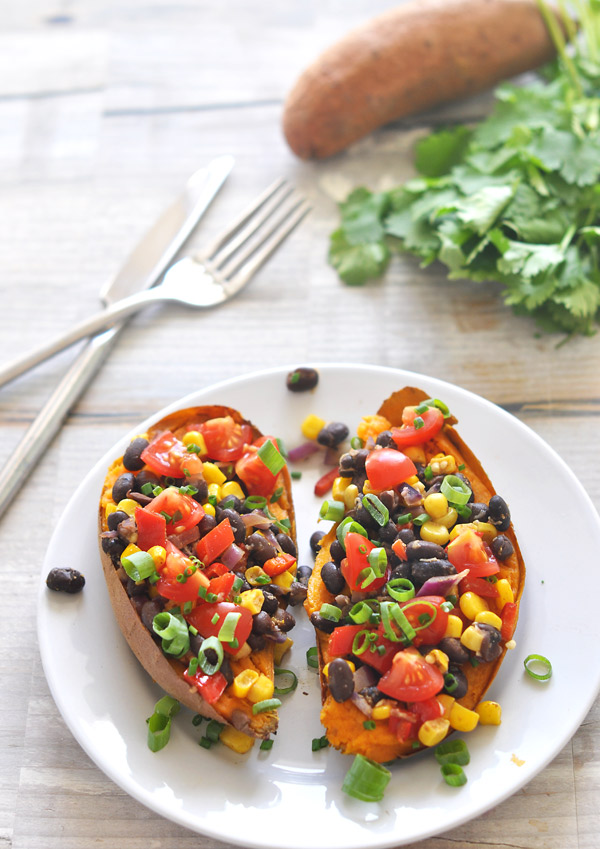 When I first moved to London I thought the concept of eating a baked potato with various toppings for a main meal was kind of weird, it just wasn't something I had eaten before, but it's all the rage over here!
Years ago, I read something in Australia about how fattening potato is and that due to its low glycaemic index, sweet potato was the way to go. Thankfully I love sweet potatoes! Lots of people will disagree with me but it's just far superior in my opinion. It tastes better, it's more nutritious and it's a pretty orange colour.
Anyway, these loaded sweet potatoes are a perfect mid-week meal that I'm sure you'll love. You can even cook the sweet potatoes in advance to save time during the week when you're trying to get dinner on the table quickly.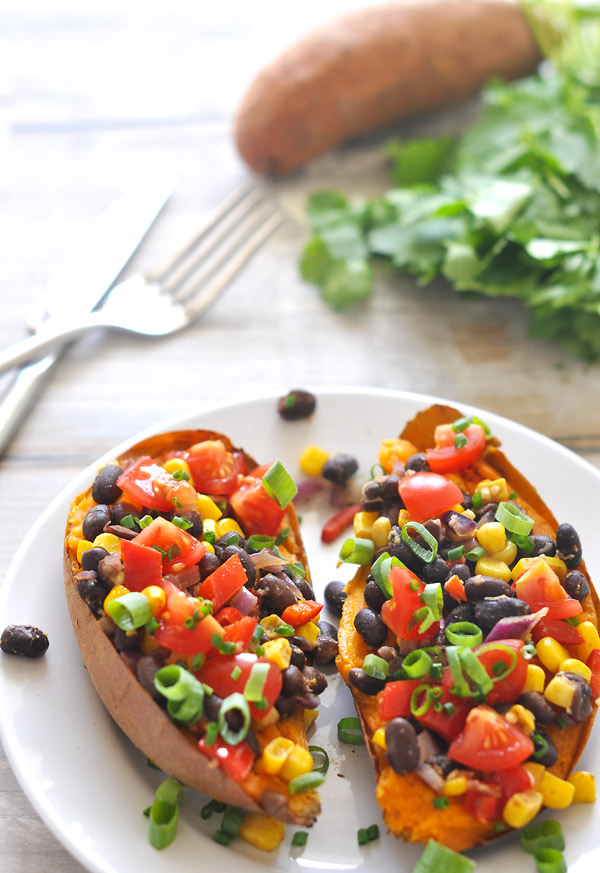 Loaded Sweet Potatoes
Ingredients
2 sweet potatoes
1 tablespoon coconut oil
½ red onion, diced
1 red pepper, diced
1 chilli, finely chopped
2 cloves garlic, minced
1 400g can black beans, drained and rinsed
1 can corn, drained
1 teaspoon of ground cumin
1 teaspoon of ground coriander
½ cup tomatoes, diced
¼ cup spring onions, chopped
¼ cup chives, chopped
Coriander, to garnish
Salt + Pepper, to taste
Directions
Preheat oven to 180 degrees Celsius or 356 Fahrenheit
Cook sweet potatoes for around 40 minutes or until soft in the centre. Stick a sharp knife in to test.
Fry onion, red pepper, chilli and garlic in coconut oil for approximately 5 minutes
Add black beans, corn, cumin and coriander and cook for a further 5 minutes
Chop sweet potatoes in half and add bean mixture to the top
Top with tomatoes, chives, spring onions and coriander