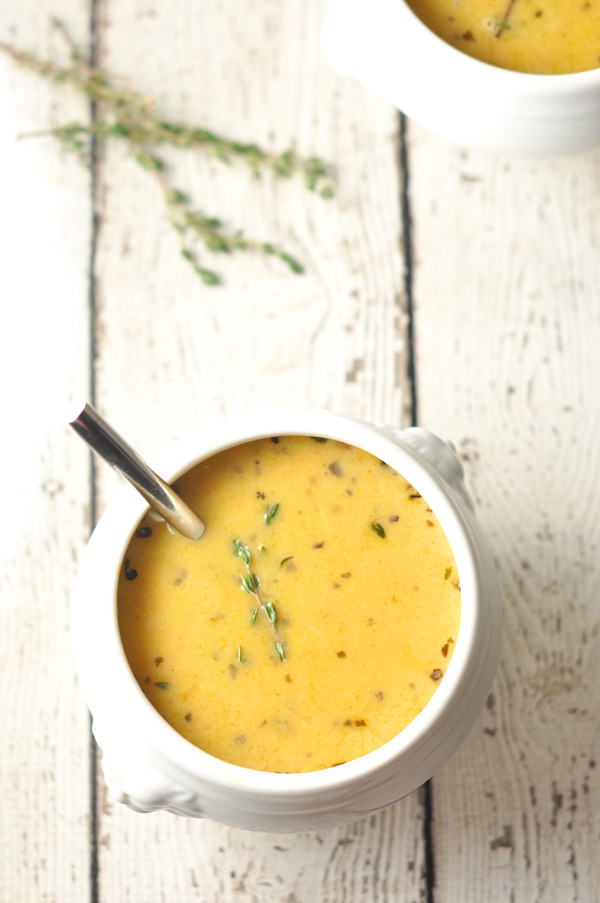 A wonderfully simple soup that's my new go to recipe for winter. The most difficult thing about this recipe is waiting for the pumpkin to cook in the oven. The smell is out of this world! So delicious! So homely and comforting! When it's cold and raining sometimes you just need to make the most of it and spend the afternoon in the kitchen making soup.
I don't know about you guys, but when I walk in my front door, there's nothing better than the smell of delicious food. This soup brought me a lot of joy, it made my heart happy! Food brings up so much emotion and it warms the soul to eat homely food when the weather is cool.
My first attempt to make this recipe was much more complicated. I used a whole bunch of additional ingredients, and you know what, it just didn't work. Some things are best left simple for the ingredients to really shine. Naturally the star of this recipe is the pumpkin and paired with sage it's a match made in heaven. I have a feeling making this soup is going to become a weekly ritual during winter.
Best served with some crusty bread on the side or a delicious fresh green salad.
Pumpkin & Sage Soup
Ingredients
1 butternut pumpkin, cut in half and roasted
2 tablespoons coconut oil
1 onion, finely diced
4 cloves garlic, minced
6 sprigs of thyme, removed from stem
3 tablespoons dried sage
3 cups vegetable stock
1 cup coconut milk
salt + pepper, to taste
Directions
Preheat oven to 180 degrees Celsius or 356 Fahrenheit
Chop pumpkin in half, place on baking tray and roast for 50 minutes or until tender
Add coconut oil to a large pot with the onion and garlic and fry for approximately 8 minutes or until onions start to soften
Add sage and thyme and cook for another couple of minutes
Once the pumpkin is tender, scoop the flesh out and put in pot with onions
Add vegetable stock, bring to the boil and simmer for 15 minutes
Add coconut milk and simmer for a further 10 minutes
To puree the soup add to a blender/food processor or use a stick blender
Once the soup is smooth, season with salt and pepper and serve hot